6th Annual Holiday Chefs Challenge sponsored by Surf Pediatrics and Medicine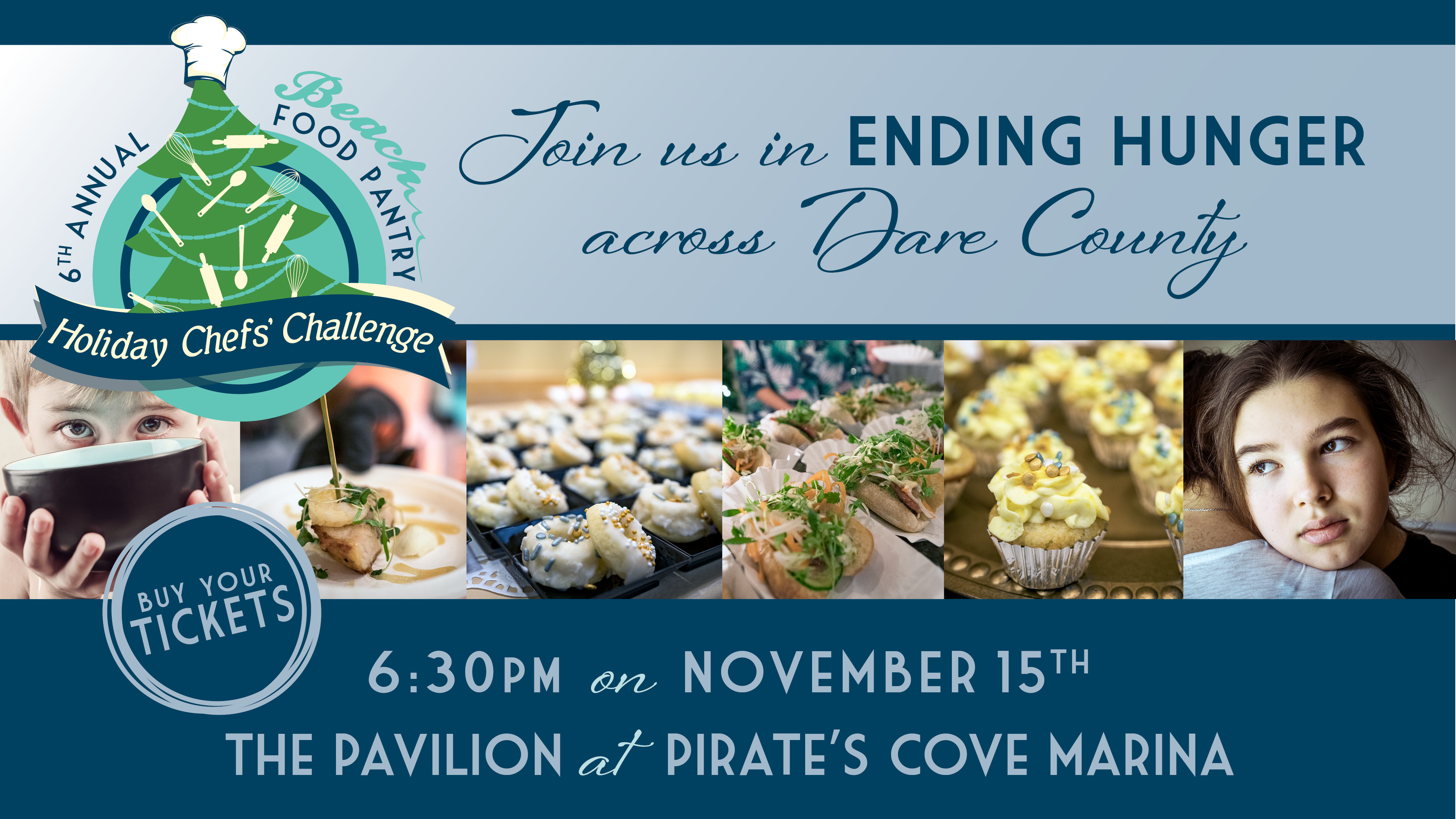 Thanks to our Epicurean Sponsor, Surf Pediatrics and Medicine, Outer Banks Chefs will compete for the title of "Crown Prince or Princess of Canned Goods." Each chef has 60 minutes to cook a dish using item(s) that the Beach Food Pantry would normally keep in stock. One of the items used must be a canned good. Attendees and a three-judge panel vote for their favorite dishes.
New this year, we have a Dessert competition category and new restaurants joining us! Also, we have a new event site!
General Admission Tickets are $60 per person and include event entrance, Chefs' creations and 2 drink tickets (select beer and wine). Event is 6:30p-10p. Only those with VIP tickets will be admitted prior to 6:30.
VIP Tickets are $85 per person and also include a ticket to the First Look VIP Reception, sponsored by Social House Vodka, from 5:30p-6:30p, as well as an open bar throughout the event with select beer, wine and liquor.
The First Look Reception, sponsored by Social House Vodka, is your opportunity to see the chefs that will be competing in the Beach Food Pantry's 6th Annual Holiday Chef's Challenge in the heat of the battle! This more intimate Reception is held during the 60-minutes the chefs have to prepare a dish using ingredients commonly distributed to our clients.
While you are watching the chefs perfect their art, you'll also get to enjoy special cocktails utilizing NC's #1 Craft Vodka, Social House. Their vodka is made from corn, so it's gluten-free! And, all of the products they use to create their spirits are 100% sourced from NC. To attend this premier event, please purchase a VIP Ticket today!
New this year, we also have a Designated Driver ticket available. This ticket is $50 per person and includes event entrance, Chefs' creations and soft drinks.
Enjoy a festive evening at The Pavilion at Pirate's Cove Marina in Manteo featuring auctions, a 50/50 raffle, and music by Monte Hooker.
Tickets may be purchased using the "Buy Tickets" link. Tickets will also be for sale at the Beach Food Pantry.
Thinking of making our event part of a weekend getaway? We have arranged for special rates with Oasis Suites, less than 2 miles away from the event site. Please call Oasis Suites at 252-441-5211 by 10/15/19 to make your reservations.
Sponsors are still being accepted! Sponsorship benefits are detailed in the PDF link below.
Many thanks to this year's Epicurean Sponsor, Surf Pediatrics and Medicine.